Read this article in our gorgeously designed digital magazine
Exec Digital's Top Manbags, Pt. 1
Written by Genius Contributor Emily Butcher
Gucci Duffle – Saks Fifth Avenue, $2,650
The very picture of luxury, Gucci's products have encouraged men to feel sexy and stylish for decades with superbly fitted clothing and timeless accessories. The Gucci Carry-On Duffel is no exception. Thoughtful details include silver hardware and a detachable shoulder strap. The warm cocoa-colored bag, also available in muted charcoal, is fashioned from soft leather and made in Italy. A double zip enclosure is outfitted with a lock, making the roomy bag the perfect companion for a quick weekend getaway.
Burberry Nylon Messenger Bag – Neiman Marcus, $850
If you don't want your messenger bag to scream "inner-city bicycle delivery boy," look no further than Burberry's sleek, stylish take on the over-the-shoulder staple. Accented with leather trim and logo plate accents, this messenger bag features the fashionable signature Equestrian Knight print, a spacious canvas-lined pocket, and magnetic-snap pockets for easy entry on the run.
J. Crew Montague Leather Satchel – Online, $298
Inspired by military briefcases and vintage leather satchels, the Montague satchel is washed and tumbled until the rich brown pebble leather is perfectly soft and broken in. Timeless and simple, the J. Crew satchel features handsome accents like brass-finish hardware and reinforced rivets, ensuring this bag can take the beating your travels will put it through for years to come.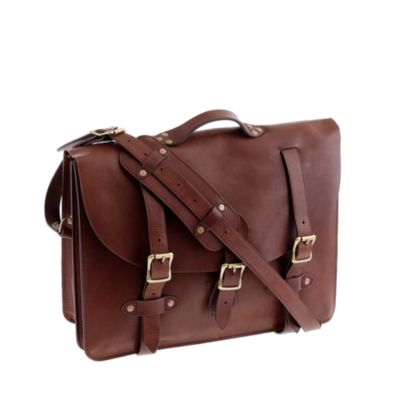 Juicy Couture Canvas Messenger Bag – Nordstrom, $295
If Juicy Couture brings to mind images of fluffy pink, quilted bags or those infamous sweatpants, we're here to change your mind. The natural, distressed look of this canvas messenger bag is clearly a great pick for a down-to-earth guy on a casual outing. The vintage-inspired tote is made of soft, broken in leather with brass accents and a surprise screenprint lining the inside flap. Colors include Fatigue, Vintage Brown, Black and Vintage Black.
VIDEO: Hangover Man Purse
VIDEO: Han